Covid-19
At Finn Dental Specialists the health and wellbeing of our patients and colleagues is our top priority. Over the past few weeks we have been working relentlessly to ensure we stay abreast of the COVID-19 situation as it unfolds and we are continuing to adapt in accordance with the guidance from the Government and our governing bodies. We always put patient and colleague safety first and that philosophy continues through the current situation.
The latest guidance from the Chief Dental Officer of England means we are not currently able to offer face to face appointments and therefore our practice building is closed. However our clinical team remain on hand to provide consultations on a telephone basis for any dental advice and guidance.
To reach us please call 020 8658 1230.
If you require emergency dental treatment to stabilise any urgent problems which are causing extreme pain, a risk of infection or swelling we will direct you to a Local Emergency Care Clinic. These are being set up to treat emergency patients whilst dental practices restrictions are in place, please ensure you call us first as they will not see you without a referral from one of our clinicians.
We are already taking precautionary steps for our reopening. Upon arrival to appointments we'll ask that you remain in your cars or in the carpark until you're called in and any paperwork will need to be filled out online or via email. There will be gaps in between each patient to ensure the surgery is cleaned and disinfected to prevent any transmission.
We understand this is an uncertain time and the situation is not ideal, but our dedicated team are still on hand to provide you with all the support and guidance we possibly can. Your care remains our top priority and we look forward to seeing you back in practice as soon as we can.
We hope you and your family are safe and well.

Finn Dental Specialists is a warm, welcoming practice with 'state-of-the-art' facilities, based in Beckenham, Kent. We offer exceptional care, leaving you with a healthy, confident smile.

As a private, specialist dental practice, we see patients who are referred by their own dentist and patients who self-refer to us directly, often on the recommendation of our existing patients.

We offer a full range of dental care including cosmetic treatments, treatment of gum disease, root-canal therapy, invisible braces, whitening, implants, dentures, bridgework, crowns, composite bonding, veneers, prevention of oral disease, diagnosis of acute and chronic pain, bite correction and treatment of temporomandibular pain dysfunction syndrome.

Our dentists are registered specialists with the General Dental Council (GDC).

Whether you want to preserve the teeth you've got, or have the teeth you've always wanted, we are here to help.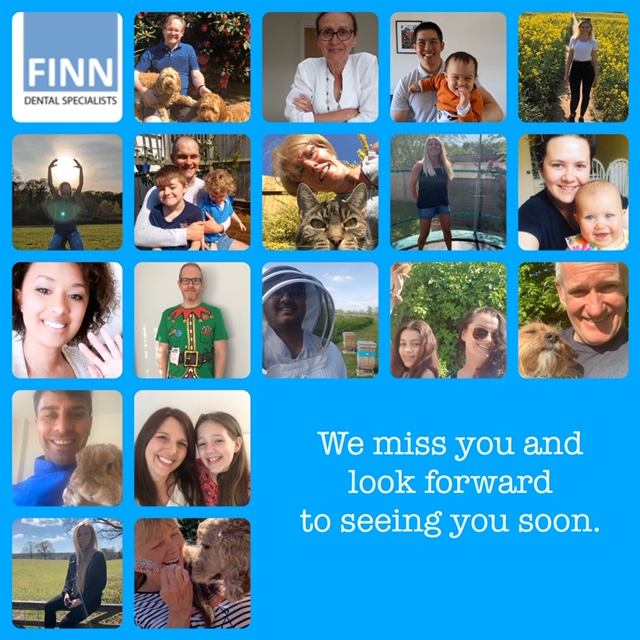 Book your appointment today
Guy and Jo and all the nurses got me through by being so kind and patient and most importantly explaining everything, sometimes several times with my endless questions!
M Gardner
Best dental surgery in the universe. Thank you Guy and all the staff at Finn Dental. I have been terrified to the core of my soul about dentists until I came to see you wonderful souls. Team Finn rocks!

D Newbury
Absolutely would recommend highly. I've always been an anxious patient when it comes to dentistry, but the team has been amazing and changed that completely. For the first time in years I can smile properly. Thank-you.

R Barratt